How to interview senior executives
The average tenure of a C-suite executive is roughly five years. That means that depending on the timing of their hiring, the company could be going through a long and complicated hiring process every couple of years. 
On the surface, it may seem that interviewing executives is no different to interviewing any other candidate, but in reality, hiring executives is a much more involved process. Although similar, there are important differences, and you need to adapt your strategy to make it work.
To better understand what it takes to interview and hire senior executives, we teamed up with Dr. Bernd-Georg Spies. As a former Managing Director of a leading executive search and leadership advisory firm, Spies has over 20 years of experience placing senior-level leaders around the world.
This article covers the interviewing process of senior executives and assumes that you already have suitable candidates.
Preparing for the interview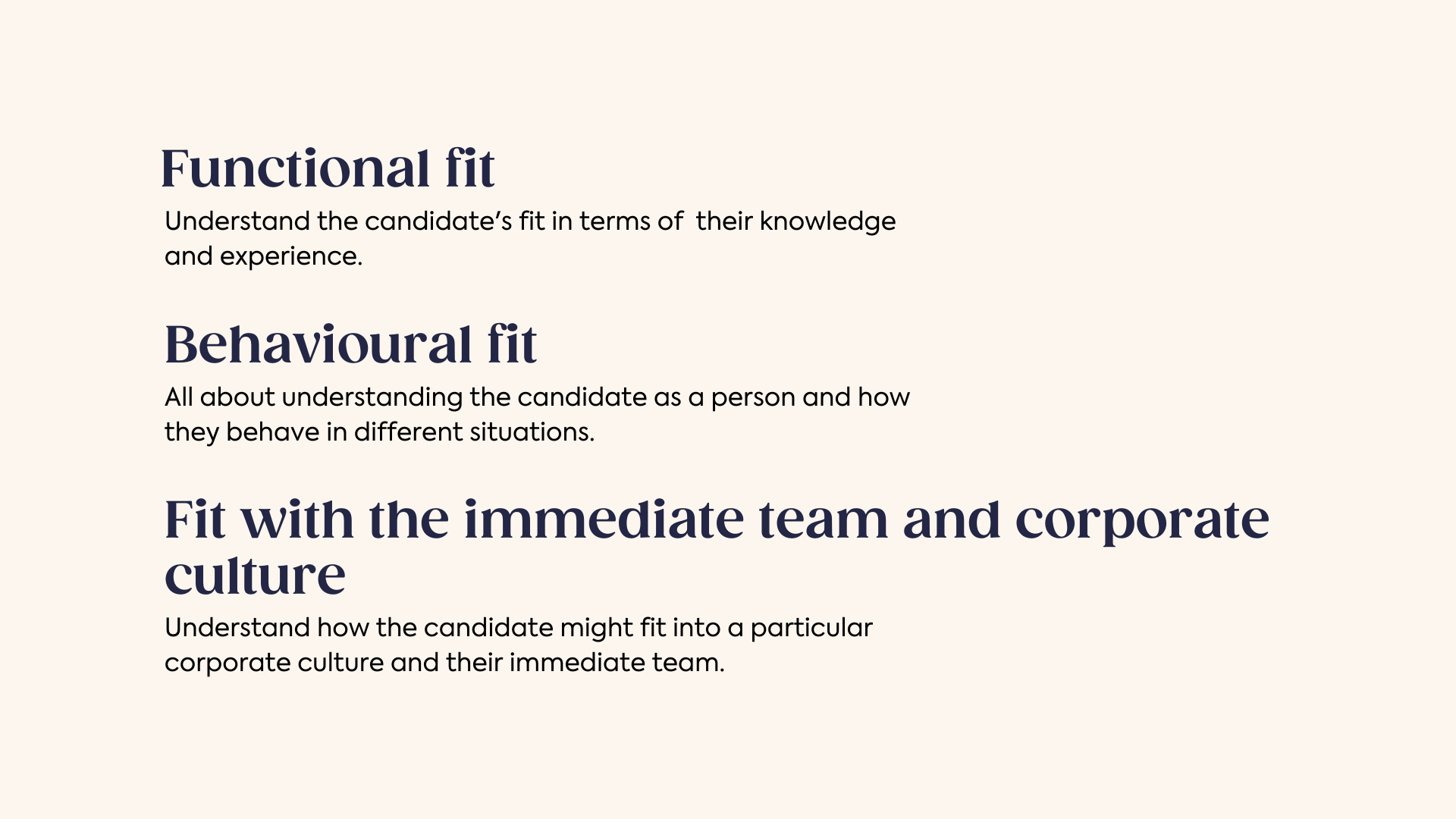 Areas of interest during a candidate interview
The work starts by analysing the candidate's CV and/or LinkedIn profile. What is the profile of their previous employers? Which position did they hold previously? Do you know anyone who may have worked at the same company around the same time?
Spies adds that "with any new search process, I will talk with people on the marketplace to find out what people who either know the candidate or have worked with her/him can tell me about them. This gives me a better understanding of who I'm dealing with."
This information is augmented by all other publicly available data and collected into a dossier for easier access. The dossier will be used as a reference throughout the hiring process. This data gathering can be done by yourself or by a dedicated researcher.

"With any new search process, I will talk with people on the marketplace to find out what people who either know the candidate or have worked with her/him can tell me about them."
Dr. Bernd-Georg Spies
Your aim is to know as much about the candidate and their previous experience as possible. Superficial information like their previous position (e.g. CEO of Superawesome Inc.) is not enough. You'd need to dig deeper and understand how they performed and what others have said about it.
After you're satisfied that you have enough information comes the next step - the interview. With the interview, you're trying to find answers and assess fit in three areas of interest:
Functional fit 
Fit with the immediate team and corporate culture
Functional fit
With functional fit, the aim is to understand from a knowledge and experience perspective how good a fit a candidate is. For this, you need to understand the position and its requirements deeply.
There are many interviewing techniques that could be used, but the one used most is evidence-based or behavioural interviewing.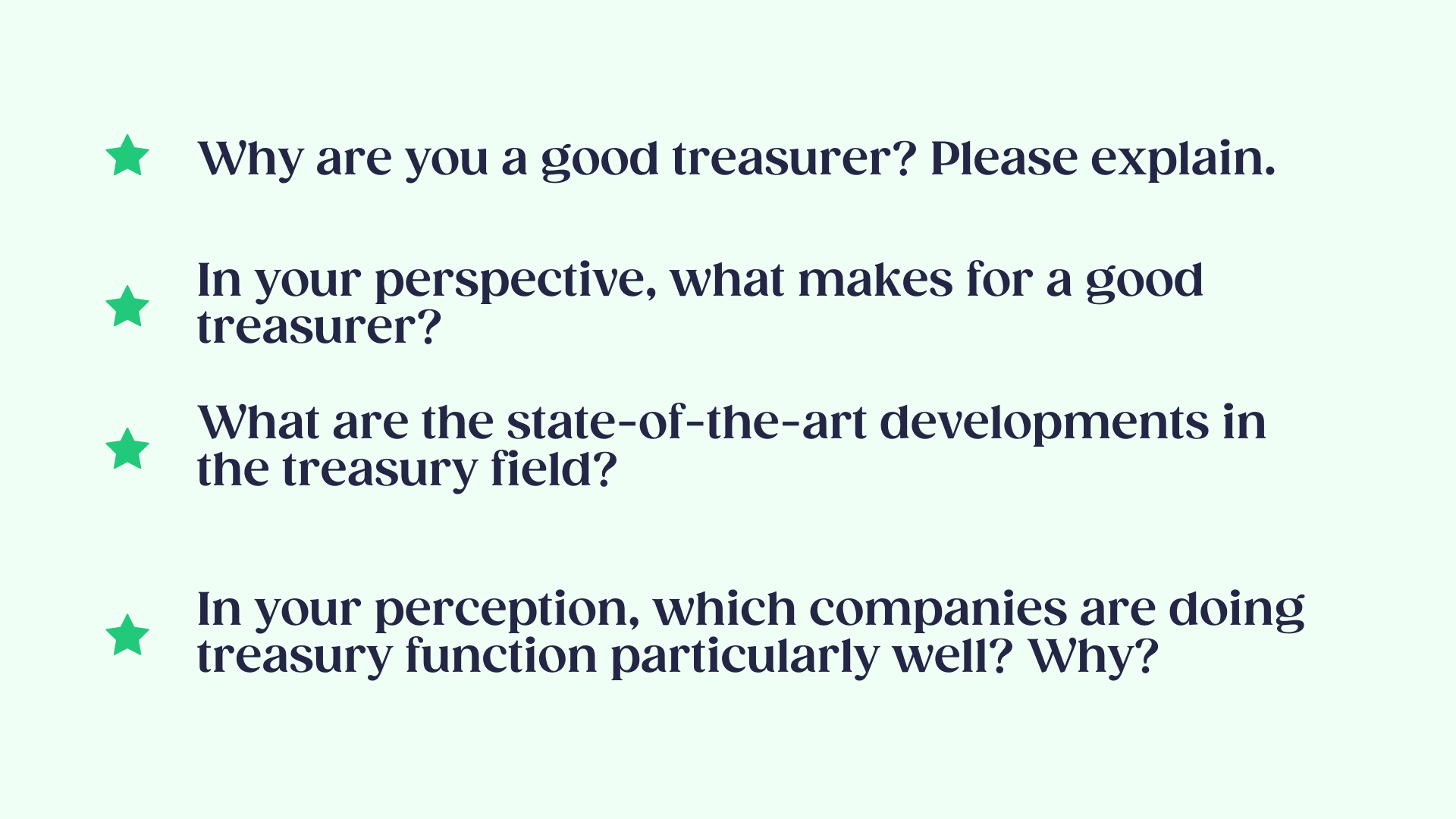 Example functional fit questions for a company treasurer position
In essence, you keep asking the candidate to explain and give concrete examples from their working experience.
For example, when looking for a treasurer, these questions could include:
Why are you a good treasurer? Please explain.
In your perspective, what makes for a good treasurer?

What are the state-of-the-art developments in the treasury field?

In your perception, which companies are doing treasury function particularly well? Why? 

How do you learn about developments in your field?
Based on your research and understanding of the position, you're looking for answers that confirm or deny the candidates' suitability for the role in question. "The interview consists of me constantly forming hypotheses and then confirming or denying the hypotheses", adds Spies.
Did you know that we recently published Hiring Templates that come with a ready-made hiring guide that includes functional fit questions? Check them out by clicking on the banner.
Behavioural fit
Behavioural fit is all about understanding the candidate as a person and how they behave in different situations.
The problem is that, when asked, most people will give the greatest hits version of their story. They will tell you how good a leader they are, how they listen to their employees, care for their employees, etc.
To get real answers and information helpful in determining the candidate's suitability, you have to be ready to challenge and push back.
You don't do that because you want to be a forceful or an unpleasant interviewer. You want to know this for the sake of understanding. Ask tough questions because you have to get answers that make sense and align with your research and everything else you know about the candidate and the requirements of the position.

"You have to be a strong interviewer. You are in the lead, not the candidate. Unless you challenge them, you'll end up with a sweet and nice story. When that happens, you haven't done your job properly - you didn't get to the bottom of the issues."
Dr Bernd-Georg Spies
Are you a good people manager?
For example, let's take an important part of being a senior executive - managing people. Start by asking about a situation where the candidate managed a complicated people issue well. 
You're likely to hear a hero story on how there was a problem, and they came in and solved it. That's the almost expected answer.
Instead of agreeing, keep probing: Why do you believe you managed this well? Were there people who disagreed? What did you learn from this situation?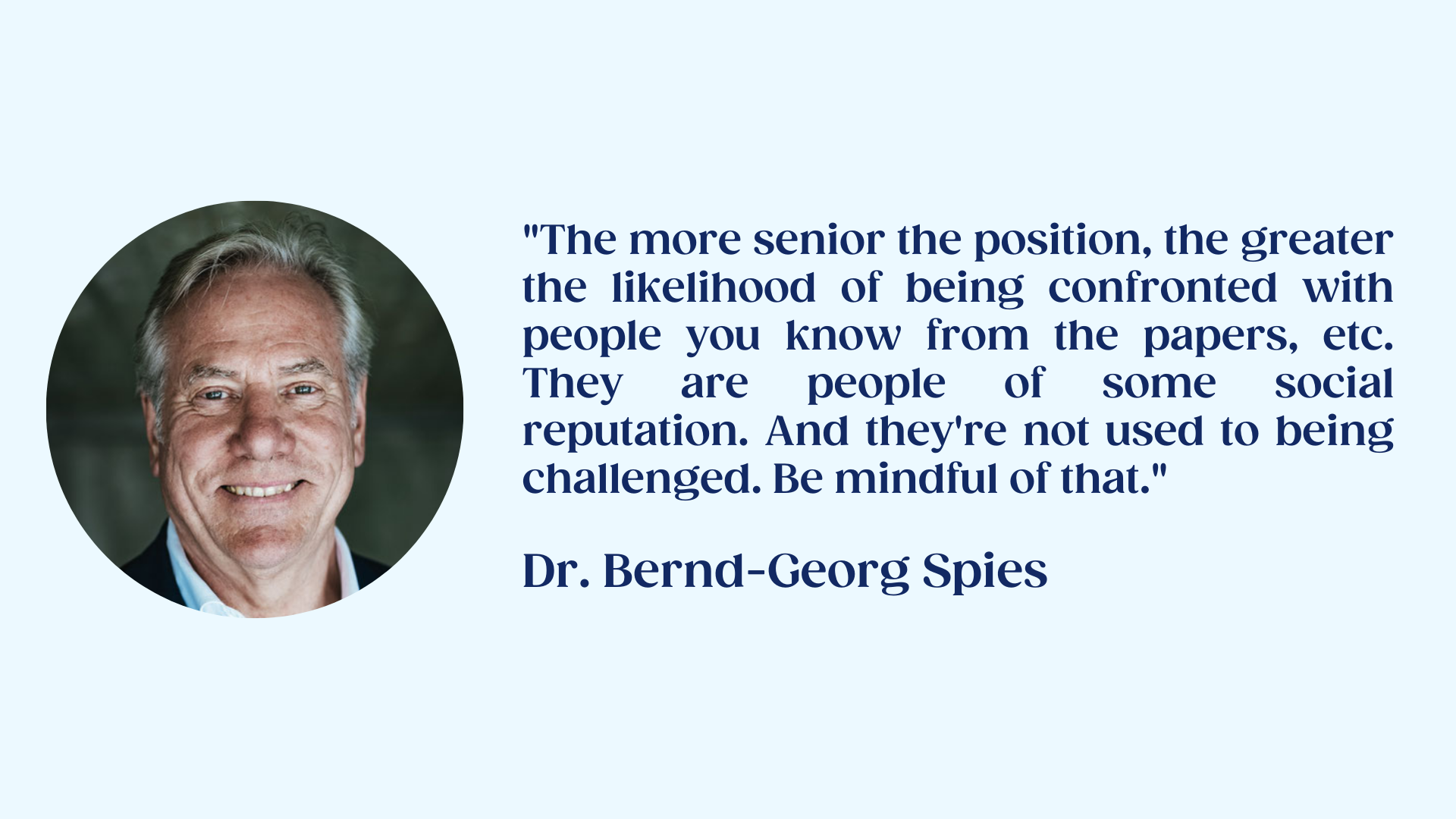 You ask an initial question and then keep digging deeper, depending on the answer you get. When your research shows that the candidate is an excellent leader but bad at managing people, you can turn the heat on a little more:
"What I've been hearing from people who know you tell me something quite different. There has been a huge fluctuation of people who have left the company in your area. What would you say to that?"
You need to be courageous because often, in these interactions, the more senior the position, the greater the likelihood of being confronted with people you know from the papers, television figures, etc. They are people of some social reputation. And they're not used to being challenged. Be mindful of that.
"You ask an initial question and then keep digging deeper until you get the information that you need."
Dr Bernd-Georg Spies
In Spies's experience, there have been situations where the candidate has ended an interview because, in their view, the interview was too intrusive. 
In those situations, there isn't a lot you can do. You have to get the needed information. Thankfully, these situations don't happen often, but they can happen.
Fit with the overall corporate culture and immediate team
The last piece of the puzzle is understanding how the candidate might fit into a particular corporate culture and their immediate team. Of the three dimensions, this is perhaps the hardest to get right. 
On the culture front, if you've done your homework and have been in the market for a while, you know one or two things about corporate culture. And if you're doing in-house executive search, you're obviously a part of that culture, and things are easier to judge.
For example, Anglo-Saxon corporate culture is fast, brutal, and performance-oriented, whereas German companies tend to be much more socially consensus-oriented, where changes need to be discussed in greater detail.
Anglo-Saxon corporate culture is fast, brutal, and performance-oriented, whereby German companies tend to be much more social consensus-oriented, where changes need to be discussed in greater detail.
As for team fit, that largely depends on how much time and attention you can get with the team to sit down and talk in greater detail. The more time and access you have, the better your understanding. This understanding creates the basis for better hiring decisions.
Conclusions
Interviewing senior executives is not rocket science, but there are important differences in how to approach the process.
First, you need to pay close attention to the preparatory work and deeply understand the position and who it is you're looking for. 
And secondly, go deep into finding the right candidates with the right background and experiences that fit the description. 
Executive search used to be like witchcraft. An art form based on intuition - you couldn't teach anyone to be good at executive search. You either had that IT factor, or you didn't.
Nowadays, the IT factor still plays a role, but "there are tools on the market that bring science and data into the equation. And one of these tools is Wisnio which brings data into an otherwise opaque process", Spies notes.