The challenge
Lingvist is an Estonia-based startup building learning technology that radically improves learning efficiency. Like any other startup, they are constantly on the hunt for the best talent.
And not just the best talent, but the best talent that would fit into their existing structure and thrive. There are plenty of candidates with the required knowledge and skills; the trick is finding one that is right for the team.
As Mait Müntel, CEO, Lingvist described it, "we needed a way that would enable us to choose the right candidate from a pool of candidates who on paper would fit the role. A way to assess how candidates match our values and complement our existing skillset to build a high-performing team." 
The solution
For Mait, the solution came when his search partner introduced them to Wisnio. A talent analytics platform with built-in personalised candidate interviewing and (team) evaluation tools.
Team analysis tools- Based on behavioural science theories on values, personality, and competencies, team members complete a 25-minute online survey and review their Team Profile to learn more about their colleagues' traits, motivators, and core competencies.

Structured hiring tools - The Hiring Dashboard brings transparency to even the most complex hiring process by giving a clear overview of shortlists, Candidate Profiles, and candidate evaluations based on the job-specific requirements with a range of hiring decision tools.
"We needed a way to assess how candidates match our values and complement our existing skillset to build a high-performing team."
Mait Müntel, CEO, Lingvist
The result
The process started with the search consultant using the Wisnio platform to write a detailed job description (called Position Mapping on the platform) with role-based key objectives, position requirements, and the competencies needed to perform the job well.
Next, based on that input, the search consultant got to work and presented a shortlist of candidates. To better assess the candidates, each candidate went through a 20-minute online Wisnio assessment to determine their competencies, values, personality and overall fit with the role.
The platform uses these data to compile candidate-specific profiles: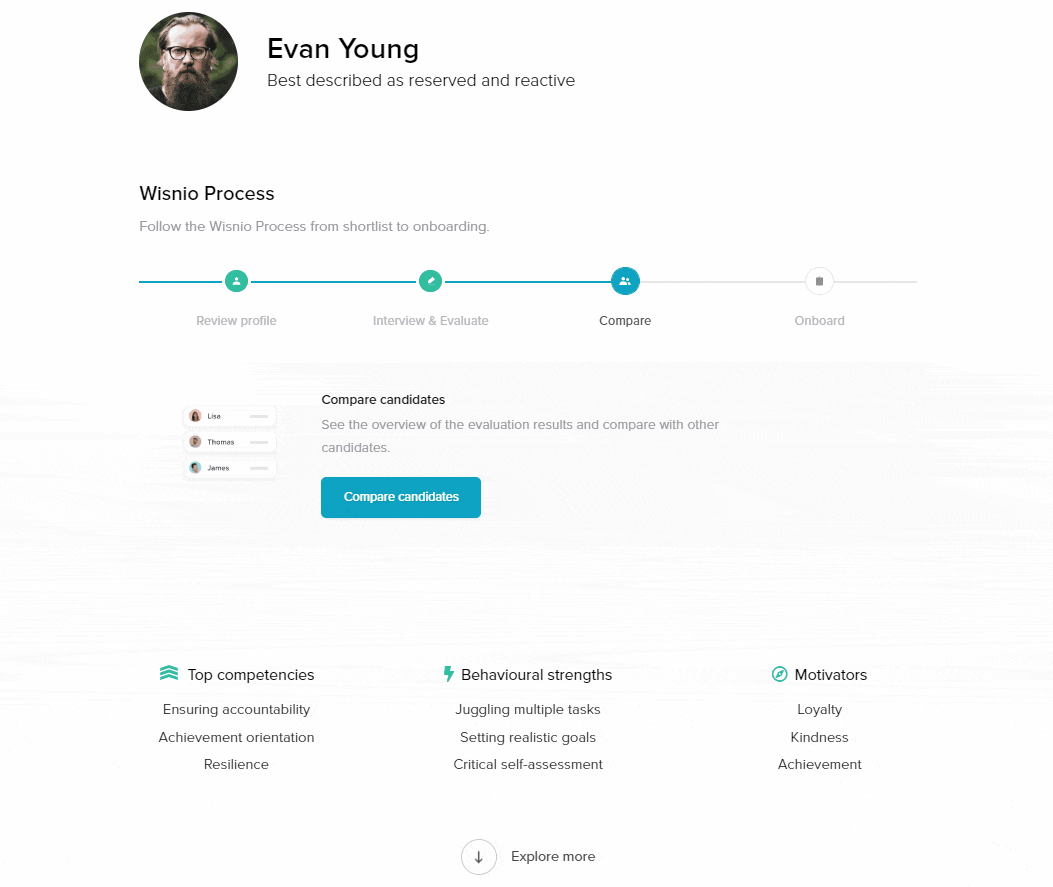 An example Wisnio Candidate Profile
The interviewing process
The interviews consisted of a mix of candidate-specific questions provided by the platform (Interview & Evaluation Guide) and questions from the team. 
Each candidate on the platform has a dedicated interview guide with questions based on the key objectives, position requirements, and competencies set earlier in the process and their individual Candidate Profile.
"We really liked the Interview & Evaluation Guide. Especially the included competency-based questions. Those questions and answers helped us better understand true candidate strengths." 
Mait Müntel, CEO, Lingvist
Each interviewer scored each section separately for candidate evaluation and added notes to the candidate's Interview & Evaluation Guide.
Scores from all interviewers are automatically added together and displayed on a Candidate Comparison Scorecard that shows all candidates and their respective scores: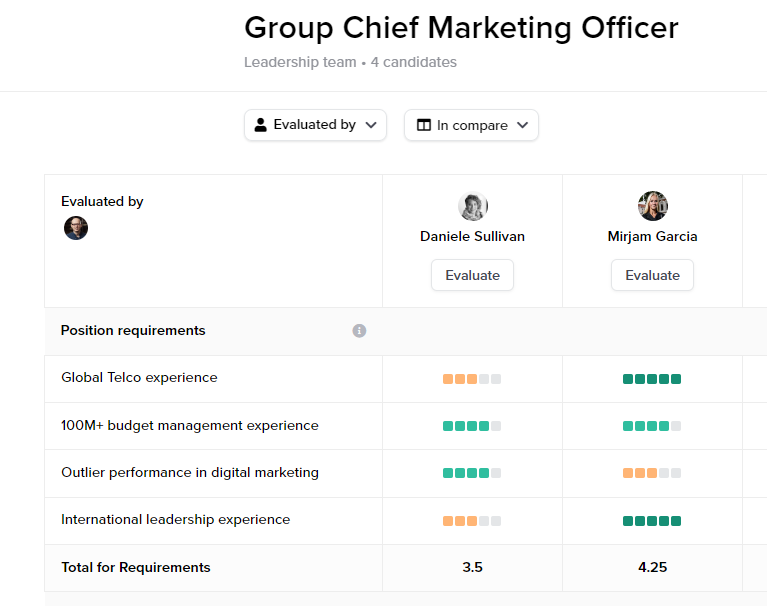 Whenever scores given by evaluators differ by a significant amount, they are pointed out as sections that need further discussion: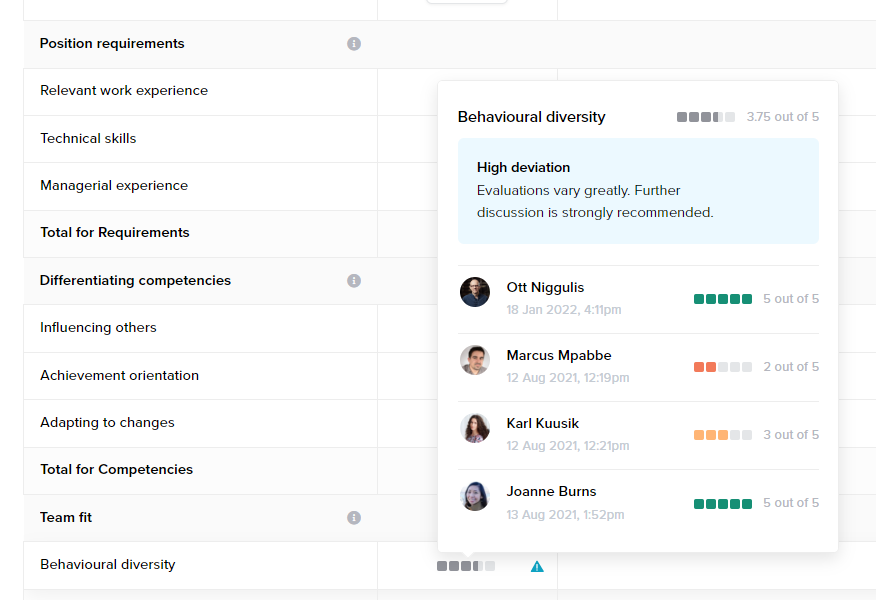 And indeed, with the Lingvist team, it did happen that for some candidates, the scores differed significantly.
According to Mait, whenever the scores differed by a lot, the team looked over the specific section and discussed their differences. In most cases, it came down to different people evaluating slightly different aspects, and after talking it through, the differences mostly subsided.
In rare cases where that didn't happen, the team noted the section and set about getting additional information.
"By using a systematic process of defining clear evaluation areas and then asking questions from candidates on those specific areas, we were able to have a process that helped us make a better choice and eliminate the emotional aspect of hiring. For this, I am very grateful."
Mait Müntel, CEO, Lingvist
Making the final decisions
By the end of the process, Lingvist had two equally strong candidates, and the final decision came down to choosing a candidate whose strengths best matched what the team needed.
"We had two equally strong final candidates - whoever we chose would be a good choice. To make the final decisions, we turned to job analysis and interview notes on candidate strengths. We looked at what qualities we identified as crucial and chose the candidate who best matched those criteria. I am very happy and confident that we made the right choice." 
Mait Müntel, CEO, Lingvist

By using the Wisnio platform, the Lingvist team could tune out the bias and noise that usually comes with hiring and make a data-based hiring decision.
Are you looking to elevate your hiring and take your interviewing skills to the next level? Try out Wisnio for free today!